Call For Participants, SU London in the World: Freedom of Speech and Safe Spaces
Date and Time: Wednesday 15 February – 17.15 – 19.30
Place: Syracuse University London
Theme:
In recent years both American and British societies have seen significant and vigorous debate occurring in political, academic and media spaces focusing on the issues of free speech and safe spaces.
Article 19 of the Universal Declaration of Human Rights proclaims the rights of freedom of expression and belief, rights that are now enshrined in national law and also the European Convention on Human Rights, whilst other laws on equality and human rights protect individuals from hate speech and prohibit incitement against people on the basis of their race, gender, religion or belief, sexuality, age and if they are disabled. UK law has for a long time had robust laws on both slander and libel.
The question for discussion could be articulated thus: how free should speech be?
We invite presentations from faculty and members of the student body addressing the broad themes:
• Article 19: An Introduction – What Are the Parameters of Freedom of Speech and Expression?
• Safe Spaces and No Platforming – The Case for Controlling Offensive Speech in Academic Life
• The Case For An External Press Regulator
• The Case Against An External Press Regulator
• Freedom of Speech and Expression in Arts and Literature: Are There Limits?
• Politics, Populism and Hate Speech
To offer a presentation, please draft a short proposal of up to 250 words and e-mail to Meghan Callahan and Dan Wheatley macallah@syr.edu /dwheatle@syr.edu by Wednesday 8th February.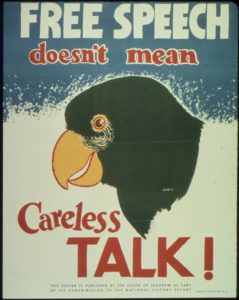 Office for Emergency Management. Office of War Information. Domestic Operations Branch. Bureau of Special Services. (03/09/1943 – 09/15/1945)