Hi everyone,
I'm sure you've all seen signs plastered all over Faraday House advertising next week's symposium 'ClimateKeys: A musical conversation about environmental justice' (Tuesday, 14th from 5:30-7:30pm). You can expect live music, poetry, spoken word from professional musicians as well as your fellow students PLUS free food provided by eco-caterers and the list goes on…
We really do hope to see you there and are looking forward to hearing your voices.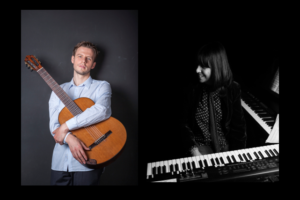 Michael Poll & Lola Perrin pictured above will be performing on Tuesday night (and we could not be more excited!).
While we're on the subject of symposia at Syracuse London, I wanted to share a thoughtful and beautifully written blog titled 'Investigating free speech at Syracuse University London's symposium' covering our previous symposium which took place in October on post-truth/free speech (and more) by one of your fellow students, Caroline Colvin.
Please take the time to read it here.
I believe Caroline will also be covering next week's symposium, so watch this space.
And a huge THANK YOU to Caroline for her wonderful coverage and reflection!
Photo credit: Caroline Colvin's blog
Photo credit: www.climatekeys.com